Current Recipient
Peggy Gilligan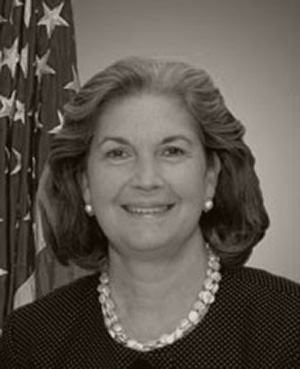 In recognition for her commitment to public service and aviation safety during her distinguished 36-year career with the Federal Aviation Administration.
Peggy Gilligan is recognized for her selfless service to the flying public through her involvement in many critical positions at the FAA all of which contributed to the advancement of aviation safety. Over her 20 plus years in the FAA's Aviation Safety Organization Peggy had a direct hand in implementation of innovative voluntary safety programs like Flight Quality Assurance (FOQA), Aviation Safety Action Plans (ASAP), post September 11, 2001 aircraft safety enhancements, enhanced international harmonization and acceptance of safety regulations, international leadership at ICAO, integration of unmanned aerial systems, Next Gen modernization and countless other safety improvements.
Peggy's most lasting contributions are as a founder and leader of the Commercial Aviation Safety Team (CAST) and the Aviation Safety Information Analysis and Sharing program (ASIAS). Yet it is her work behind the public eye that most typifies her valuable contributions to aviation safety. Peggy has been a valued advisor to numerous FAA administrators and DOT secretaries, mentor to hundreds of professional men and women and, most importantly, quietly and distinguishly leading the FAA's aviation safety organization through the safest period in US commercial aviation history.
The Laura Taber Barbour Air Safety Foundation is pleased to recognize Peggy Gilligan with the 2017 Laura Taber Barbour Air Safety Award for her life-long dedication, extraordinary vision, and substantial contributions to aviation safety around the world.