The Award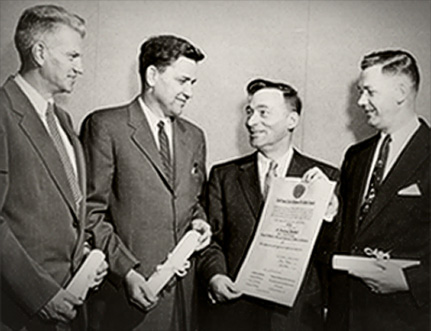 Established in 1956, the Laura Taber Barbour Air Safety Award recognizes and celebrates original and remarkable worldwide contributions in the field of aviation safety, be it civil or military, in method, design, invention, study or other advancement.
Long respected in the field of air safety, the Award places particular emphasis on achievement and the manner of operation, duration and persistence of personal effort extending far beyond standard occupational responsibilities, assignments or functions.  And in so doing, mechanics, engineers and others not at executive administrative or research levels and who have made distinguished contributions to air flight safety, garner most careful consideration.
Nominations for the award are accepted until June 15th of each year.  All nominations are deliberated and voted upon by the Award Board, a distinguished and collective cross section of leaders in aviation.    LTBASA nomination form
Each year, Flight Safety Foundation's International Air Safety Summit brings aviation experts together from around the world to identify safety concerns and design solutions to lower risk and enhance safety standards. The Laura Taber Barbour Air Safety Award is presented as part of this, "aviation's premier global event."
Each year's recipient is awarded a gold medallion bearing the Laura Taber Barbour Award emblem, an honorarium and a framed citation recognizing the recipient's particular achievements in aviation.